Recommended Books To Read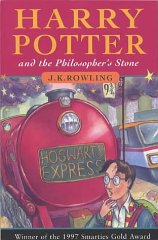 Harry Potter is an ordinary boy who lives in a cupboard under the stairs at his Aunt Petunia and Uncle Vernon's house, which he thinks is normal for someone like him who's parents have been killed in a 'car crash'. He is bullied by them and his fat, spoilt cousin Dudley, and lives a very unremarkable life with only the odd hiccup (like his hair growing back overnight!) to cause him much to think about. That is until an owl turns up with a letter addressed to Harry and all hell breaks loose! He is literally rescued by a world where nothing is as it seems and magic lessons are the order of the day. Read and find out how Harry discovers his true heritage at Hogwarts School of Wizardry and Witchcraft, the reason behind his parents mysterious death, who is out to kill him, and how he uncovers the most amazing secret of all time, the fabled Philosopher's Stone! All this and muggles too. Now, what are they? This is Jo's first book and she has already written seven outlines for Harry's further adventures at Hogwarts.
 The Great Gatsby lives in a luxurious Long Island mansion, playing lavish host to hundreds of people, and yet no-one seems to know him or how he became so rich. He is rumoured to be everything from a German spy to a war hero. Jay Gatsby doesn't heed them. He cares for one person alone - Daisy Buchanan, the woman he has waited for all his life. Little does he know how his infatuation will end.
 Marking 70 years since publication, the definitive edition of JRR Tolkien's first book, sporting a facsimile of his original cover design and complete with fold-out maps and his own drawings and paintings. Bilbo Baggins enjoys a quiet and contented life, with no desire to travel far from the comforts of home; then one day the wizard Gandalf and a band of dwarves arrive unexpectedly and enlist his services -- as a burglar -- on a dangerous expedition to raid the treasure-hoard of Smaug the dragon. Bilbo's life is never to be the same again. Seldom has any book been so widely read and loved as J.R.R. Tolkien's classic tale, 'The Hobbit'. Since its first publication in 1937 it has remained in print to delight each new generation of readers all over the world, and its hero, Bilbo Baggins, has taken his place among the ranks of the immortals: Alice, Pooh, Toad!
 Forty years ago, Harriet Vanger disappeared from a family gathering on the island owned and inhabited by the powerful Vanger clan. Her body was never found, yet her uncle is convinced it was murder - and that the killer is a member of his own tightly knit but dysfunctional family. He employs disgraced financial journalist Mikael Blomkvist and the tattooed, truculent computer hacker Lisbeth Salander to investigate. When the pair link Harriet's disappearance to a number of grotesque murders from forty years ago, they begin to unravel a dark and appalling family history. But the Vangers are a secretive clan, and Blomkvist and Salander are about to find out just how far they are prepared to go to protect themselves.
 When a troubled model falls to her death from a snow-covered Mayfair balcony, it is assumed that she has committed suicide. However, her brother has his doubts, and calls in private investigator Cormoran Strike to look into the case. Strike is a war veteran - wounded both physically and psychologically - and his life is in disarray. The case gives him a financial lifeline, but it comes at a personal cost: the more he delves into the young model's complex world, the darker things get - and the closer he gets to terrible danger .A gripping, elegant mystery steeped in the atmosphere of London - from the hushed streets of Mayfair to the backstreet pubs of the East End to the bustle of Soho - The Cuckoo's Calling is a remarkable book. Introducing Cormoran Strike, this is a classic crime novel in the tradition of P. D. James and Ruth Rendell, and marks the beginning of a unique series of mysteries.