Book Collecting
Book Collecting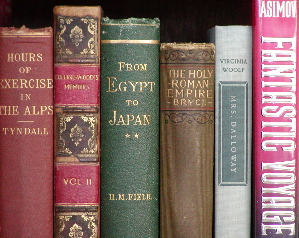 Book collecting is the collecting of books, including seeking, locating, acquiring, organizing, cataloging, displaying, storing, and maintaining whatever books are of interest to a given individual collector. The love of books is bibliophilia, and someone who loves to read, admire, and collect books is a bibliophile. Bibliophilia is sometimes called bibliomania, but should not be confused with the obsessive-compulsive disorder by that name, which involves the excessive accumulation and hoarding of books. The term bookman, which once meant a studious or scholarly man, now means one who writes, edits, publishes, or sells books.
True book collecting is distinct from casual book ownership and the accumulation of books for reading. It can probably be said to have begun with the collections of illuminated manuscripts, both commissioned and second-hand, by the elites of Burgundy and France in particular, which became common in the 15th century. Duke Philip the Good of Burgundy appears to have had the largest private collection of his day, with about six hundred volumes. With the advent of printing with movable type books became considerably cheaper, and book collecting received a particular impetus in England and elsewhere during the Reformation when many monastic libraries were broken up, and their contents often destroyed. There was an English antiquarian reaction to Henry VIII's dissolution of the Monasteries. The commissioners of Edward VI plundered and stripped university, college, and monastic libraries, so to save books from being destroyed, those who could began to collect them.
Book collecting can be easy and inexpensive: there are millions of new and used books, and thousands of bookstores, including online booksellers like Abebooks, Alibris, and Amazon. Only the wealthiest book collectors pursue the great rarities: the Gutenberg Bible, and Shakespeare's First Folio, for example, are both famous and extremely valuable. Collectors of average means may collect works by a favorite author, first editions of modern authors, or books on a given subject. Book prices generally depend on the demand for a given book, the number of copies available, and their condition.
Contents
1

 

Genres, themes, and interests

2

 

Prices

3

 

Condition

4

 

Sources

5

 

History of Anglo-European book collecting

5.1

 

Prominent book collectors

6

 

Book collecting in China

7

 

See also

8

 

References

9

 

Further reading

10

 

External links
Genres, themes, and interests
There are millions of books, so collectors necessarily specialize in one or more genres or sub-genres of literature. A reader of fiction, who enjoys Westerns, might decide to collect first editions of Zane Grey's novels. A lover of modern English poetry might collect the works of Dylan Thomas. A Californian who prefers non-fiction might look for books about the history of the San Francisco Bay Area.
Individual interests may include:
A particular author
A particular genre or field (science, medicine, history, etc)
A particular illustrator
Award winning books
Books as Art
Bindings and/or Book design
Comic books and Graphic novels
Cover or dust jacket art
First editions
Illustrated books
Incunabula: books printed before 1501
Local/Regional interests
Marginalia
Miniature books

The publisher and/or printer

Fine press books
Private press books
Small presses

Paper, parchment, or vellum
Series
Signed books: inscribed/signed by an author or illustrator
Stages of publication: advance review copies, galley proofs
Related collecting interests include collecting autographs, and ephemera.
Prices
Book prices generally depend on the demand for a given book, the number of copies available for purchase, and the condition of a given copy. As with other collectibles, prices rise and fall with the popularity of a given author, title, or subject.
eBay, and online booksellers like Abebooks, Alibris, and Amazon, have profoundly affected the prices of new and used books, generally reducing them. Commercial and private sellers list unused copies of many books that are still in print at their list prices for as little as one cent.
Because of the huge number of books for sale, there is no single comprehensive price guide for collectible books. The prices of the copies listed for sale at the online bookseller sites provide some indication of their current market values.
Condition
As with other collectibles, the value of a book ultimately depends on its physical condition. Years of handling, moving, and storage take their toll on the dust jacket, cover, pages, and binding. Books are subject to damage from sunlight, moisture, and insects. Acid from the papermaking process can cause the pages to develop brown spots, called foxing; gradually turn brown, called tanning; and ultimately crumble.
Common defects include general wear; jacket/cover edge wear, scratches, and tears; the previous owner's written name, bookplate, or label; soil and stains; dogeared pages; underlining, highlighting, and marginalia; water damage; torn hinges, endpapers and pages; and pages, illustrations, or whole signatures free of the binding, or missing entirely.
A book in good condition should be a rectangular solid when at rest, whether upright or on its back, with the covers at right angles to the spine. If a book is out of square, usually from resting crooked on a shelf, or leans to the right or left when on its back, it is cocked, or shelf-cocked. If the covers bend in or flare out, usually from rapid humidity changes, a book is bowed (bent like a drawn bow).
Sources
New books are readily available from bookstores and online. Many bookstores specialize in out-of-print, used, antiquarian, rare and collectible books. Online booksellers, including Abebooks, Alibris, and Amazon, encourage other stores and individuals to sell books through their websites, and charge a commission.
Antique and collectible stores may have a few books for sale. Major auction houses sell quality collectible books, and local auction houses may sell books by the carton. Thrift shops and second-hand stores commonly have book sections. Other sources include estate, yard, garage, or rummage sales; and charity fund-raisers.
History of Anglo-European book collecting
Book-collecting is essentially a modern pastime. A glance through what must be regarded as the medieval textbook on the love of books, the Philobiblon, shows that it deals almost exclusively with the delights of literature. Sebastian Brant's attack on the book-fool, written a century and a half later, demonstrates nothing more than that the possession of books is a poor substitute for learning. Even when the invention of printing had reduced the cost of books by some 80 percent, book-collectors did not immediately appear.
Early book-owners were not necessarily collectors. Jan Grolier (1479 - 1565), who caused many books to be bound for himself and his friends, seems to have done so partly to encourage the best printers of his day, and partly to provide his friends with the most recent fruits of Renaissance scholarship. In England Archbishop Cranmer, the Lords Arundel and Lumley, and Henry, Prince of Wales1 (1594 - 1612), and in France the famous historian Jacques Auguste de Thou (1553 - 1617), brought together the best books of their day, and put them into handsome leather jackets, for use and study, not as collectibles. Others have been dubbed collectors because they owned a shelf-full of volumes stamped with their arms.
Lord Crawford had vast collections of English, Scottish, and Irish proclamations and papal bulls, whose collecting may be interpreted as an attempt to promote historical research.[1] may also be considered an attempt to compile and promote research.  Today, collecting of this kind is carried out by libraries, universities, and institutions.
 Louis Lucien Bonaparte's collection, consisting of books in or about various languages,
As Henry died at the age of 18, he can scarcely be described as a collector of significance. However, his father, King James VI and I, bought the library of Lord Lumley for him. See the description of an item from that library that is held by the Library of St John's College, Cambridge.
Prominent book collectors
Anthony Collins
Robert Bruce Cotton
John Evelyn
George III
Henry II of France
Thomas Jefferson
Geoffrey Keynes
Aleksey Khludov
Antonio Magliabechi
Wolfgang Menzel
Samuel Pepys
Charles Dyson Perrins
Abraham Rosenbach
Adam Smith
Book collecting in China
The history of book collecting in China dates back over two millenia. The first important effort to collect books in China was made during the early Han Dynasty by the government, as many important books were burned during the Qin Dynasty. From then on, book collecting began to flourish in China, particularly after the invention of block printing during the early Tang Dynasty, with both imperial and private collections blooming throughout the country. However, the systematic study of book collecting began only during the Qing Dynasty.
Terminology
Cangshulou (Chinese: 

藏書樓

 "book collecting tower"): library, such as the private Tianyige (天一閣) in Ningbo, the earliest surviving library in China, or the imperial Wenyuange (文淵閣), where the works collected in Siku Quanshu were reposited
Jinxiangben (巾箱本 "headscarf box edition"): ancient pocket edition
Jiupingzhuang (舊平裝 "old paperback") or Jiushu (舊書 "old books"): old books published after 1911, when the Qing Dynasty was overthrown
Maobianben (毛邊本 "hairy-side edition"): uncut editions
Songben (宋本 "Song edition") or Songban (宋版 "Song edition"): block printed books published during the Song Dynasty, highly valued by collectors
Xianzhuangshu (線裝書 "thread-bound book"): thread-bound books, usually referred to those published before 1911
See also
Antiquarian book trade in the United States
Book
Bookbinding
Book collecting in China
Book design
Edition
Imprint
Manuscript
Text
References
Ahearn, Allen and Patricia. Book Collecting: A Comprehensive Guide. New York: Putnam, 1995 ISBN 0-399-14049-2
Ahearn, Allen and Patricia. Collected Books : The Guide to Values. New York: Putnam, 2001 ISBN 0-399-14781-0
American Book Prices Current (Annual, 1894/1895 onwards)
Carter, John. ABC for Book Collectors. 8th ed. edited by Nicolas Barker. New Castle, DE: Oak Knoll; London: British Library, 2004 ISBN 0-7123-4822-0 (British Library) ISBN 1-58456-112-2 (Oak Knoll) - a classic, first published in 1952.
Carter, John. Taste and Technique in Book-collecting, with an Epilogue. Pinner, Middlesex: Private Libraries Association, 1970 (The Sandars Lectures in Bibliography, 1947) ISBN 0-900002-30-1
Greenfield, Jane. The Care of Fine Books. New York: Lyons & Burford, 1988. ISBN 1-55821-003-2
McBride, Bill. Book Collecting for Fun and Profit. Hartford, CT: McBride/Publisher, 1997. ISBN 0-930313-05-4
McBride, Bill. A Pocket Guide to the Identification of First Editions. Sixth ed. Hartford, CT: McBride/Publisher, 2000. ISBN 0-930313-06-2
McBride, Bill. Points of Issue. Third ed. [Hartford, CT]: McBride/Publisher, 1996. ISBN 0-930313-04-6
Peters, Jean (Editor). Book Collecting: A Modern Guide. New York and London: R.R. Bowker and Company, 1977. ISBN 0-8352-0985-7
Rees-Mogg, William . How to Buy Rare Books: A Practical Guide to the Antiquarian Book Market. Oxford: Phaidon, 1985 (Christie's collectors guides) ISBN 0-7148-8019-1
Wilson, Robert A. Modern Book Collecting. New York: Lyons & Burford, 1992 ISBN 1-55821-179-9
Zempel, Edward N. and Verkler, Linda (Editors). First Editions: A Guide to Identification. Fourth ed. Peoria, IL: The Spoon River Press, 2001. ISBN 0-930358-18-X
Further reading
Forbes article on book collecting by Finn-Olaf Jones, December 12, 2005
W. C. Hazlitt: The Book Collector: A general survey of the pursuit and of those who have engaged in it at home and abroad from the earliest period to the present ... . London: J. Grant, 1904 - published over a century ago, but still worth dipping into.
Joseph Connolly: Collecting Modern First Editions (1977).
For more modern accounts, see the series of books on book-collectors, book-collecting and "bibliomania" by Nicholas A. Basbanes:
A Gentle Madness: Bibliophiles, Bibliomanes, and the Eternal Passion for Books. New York: Holt, 1999 ISBN 0-8050-6176-2
Patience & Fortitude: A Roving Chronicle of Book People, Book Places, and Book Culture. New York: HarperCollins, 2001 ISBN 0-06-019695-5
Among the Gently Mad: Perspectives and Strategies for the Book Hunter in the 21st Century. New York: Holt, 2002 ISBN 0-8050-5159-7
A Splendor of Letters : The Permanence of Books in an Impermanent World. New York: HarperCollins, 2003 ISBN 0-06-008287-9
Every Book Its Reader : The Power of the Printed Word to Stir the World. New York: HarperCollins, 2005 ISBN 0-06-059323-7
Follow husband and wife team Lawrence & Nancy Goldstone as they search for rare and collectible volumes, and explore real mysteries in the rare-book world, in:
Used And Rare: Travels In The Book World. New York: St. Martin's Press, 1997 ISBN 0-312-15682-0
Slightly Chipped: Footnotes in Booklore. New York: St. Martin's Press, 1999 ISBN 0-312-20587-2
Warmly Inscribed: The New England Forger and Other Book Tales. New York: St. Martin's Press, 2001 ISBN 0-312-26268-X
Out of the Flames: The Remarkable Story of a Fearless Scholar, a Fatal Heresy, and One of the Rarest Books in the World. New York: Broadway, 2002 ISBN 0-7679-0836-8
The Friar and the Cipher : Roger Bacon and the Unsolved Mystery of the Most Unusual Manuscript in the World. New York: Broadway, 2005 ISBN 0-7679-1473-2
For book collecting in China, see:
(Chinese) 傅璇琮、谢灼华主编,《中國藏書通史》,宁波:宁波出版社,2001
(Chinese) 焦树安,《中囯藏书史话》,北京:商务印书館,1997
(Chinese) 任繼愈主編,《中國藏書樓》,沈阳:辽宁人民出版社,2001
(Chinese) 黄燕生,《天祿琳琅:古代藏書和藏書樓 》,台北:萬卷樓圖書有限公司,2000
(Chinese) 徐凌志主编,《中国历代藏书史》,南昌:江西人民出版社,2004
External links
Alcuin Society A voluntary association of people who care about the past, present and future of fine books
Bookbinding and the Conservation of Books A Dictionary of Descriptive Terminology, by Matt T. Roberts and Don Etherington
Books and Book Collecting Information and resources for book collectors
The conservation of books and documents: ten frequently asked questions At the National Library of the Netherlands
Conservation OnLine: Resources for Conservation Professionals A project of the Preservation Department of Stanford University Libraries
Digital Librarian A librarian's choice of the best Web resources for book collectors
"Terms of the Trade" from the Antiquarian Booksellers Association